Strong VersaBox SM-RBX-8-WH Recessed Dual Layer Flat Panel Solution - 8" x 14" - White
STR-SM-RBX-8-WH
THIS MODEL DOES NOT FIT THE SAMSUNG ONE CONNECT BOX
Strong™ VersaBox™ Recessed Dual Layer Flat Panel Solution
Ultra-thin flat panels have met their match in the Strong VersaBox™. This innovative product is the perfect companion to our RAZOR low-profile mounts. Constructed from durable ABS materials and engineered exclusively by SnapAV, this state-of-the-art box elegantly fits your equipment behind the TV. It offers space for tons of devices, including a DirecTV® Genie, Sonos®, our mini amp, power conditioner, and wireless sub transmitter – or it can be used for simple power/cable management. Completely customizable and incredibly easy to service, this product is changing the game when it comes to flat panel installations.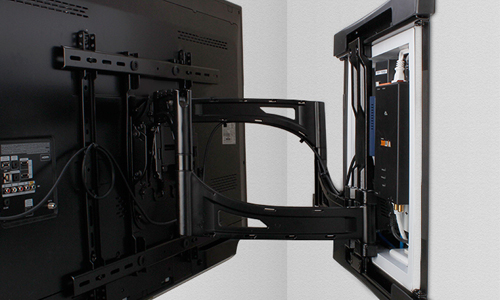 Stays out of Sight
Designed to fit behind ultra-slim TVs and pair perfectly with our line of Strong™ RAZOR mounts, the VersaBox attaches cleanly into the wall, so customers never have to see it. The cover gets mounted flush with the box, providing a clean solution that keeps gear out of sight.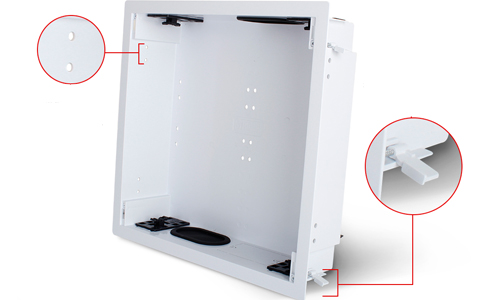 Installs Just About Anywhere
Pre-construction, retrofit, commercial, or in-ceiling installations - the VersaBox can do it all! Its optional Pre-Construction Bracket mounts to any stud, claiming that space before drywall goes up. You can also screw the box directly to a stud using the holes on the sides, or use the included dog ears to mount it retrofit into drywall or the ceiling.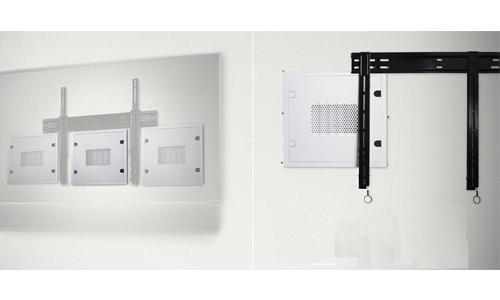 Multiple Mounting Options
The VersaBox can be installed just about anywhere you need it – whether that's centered directly behind the mount, or offset to either side of it. And thanks to its thin bezel, the arms of our RAZOR Fixed and Tilt Mounts can fit on top of it without any interference, allowing you to make adjustments as needed.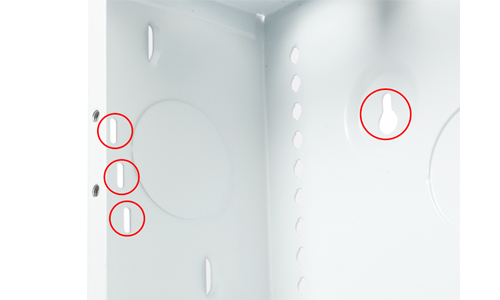 A Knockout Setup
The shelf features a breakaway section that's perfect for accommodating a Sonos® and other large devices. Just pop it out and you instantly have the space you need. The VersaBox also features rubber grommets to make routing cables a breeze, and has knockouts made specifically to fit a single-gang box for power and other accessories.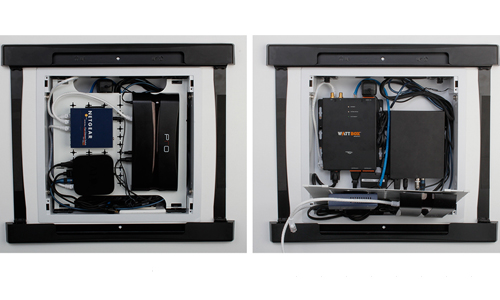 Makes Servicing Easy
The two-layer VersaBox features a hinged, movable shelf that not only facilitates wire management, but lifts up and out of the way to make every piece of equipment accessible without tearing the system apart.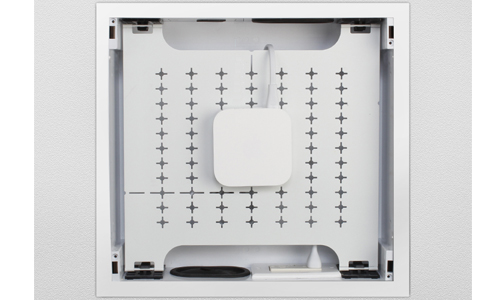 In-Ceiling Application
Adding a wireless access point to any room has never been this easy – or discreet. Simply mount the VersaBox in the ceiling and attach the WAP to provide reliable wireless access the customer never has to see.
Vented for Reliability
Heat can shorten the life of your electronics, so with all that high-powered equipment in one small space it's important to keep things cool. The VersaBox features a vented cover that lets heat escape to protect the devices inside.
Flexible by Design
Thanks to its durable ABS plastic design, you can customize this box to fit just about any installation situation. Need to add a hole? No problem, just drill right into the box – no special tools required. And since it's not made out of metal, like some competing products, you don't have to worry about it reducing Wi-Fi signal strength and speed for the devices inside.
| | SM-RBX-8-WH | |
| --- | --- | --- |
| | White | |
| | 15.4" x 9.4" x 3.9" | |
| | 8.5" | |
| | 14.25" | |
| | 1.36Kg | |
Lifetime Limited Warranty
This Strong™ product has a Lifetime Limited Warranty. This warranty includes parts and labor repairs on all components found to be defective in material or workmanship under normal conditions of use. This warranty will not apply to products that have been abused, modified or disassembled.